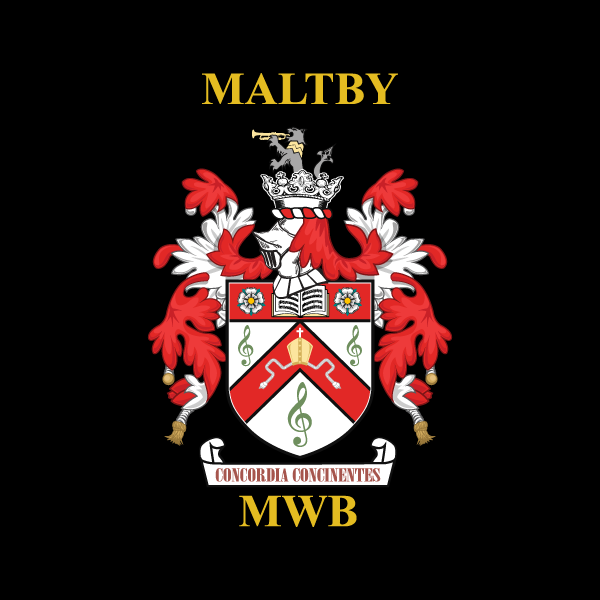 Formed in 1911 the Maltby Miners Welfare Band is still going strong after more than 100 years. The band is based in Maltby, a town six miles from Rotherham, South Yorkshire.
We are a very active concert and contest band and over the years have built up a good reputation within the local community. We are active as both a contesting band and a concert band, performing mainly in South Yorkshire and the surrounding counties at Galas and fetes, park bandstands, castles and stately homes, village halls and churches and regularly at the Rotherham Civic Theatre.
At present we compete in the 3rd section of the Yorkshire regional championships. We were Yorkshire champions of the 4th section in 1999, 2009 and 2019.
Our long serving Musical Director Terry Clifford, now in his 38th year with the band, is a skilled and experienced conductor. His patience and good humour ensure enjoyable rehearsals, whilst his encyclopaedic musical knowledge and skills as a compere mean audiences can always expect a well presented and pleasurable concert.
Maltby Miners' Welfare Band is serious about safeguarding and takes every opportunity to ensure that the Band provides a safe and enjoyable environment for all its members, its Training Band, youth members and any vulnerable members. Maltby Miners' Welfare Band is committed to protecting and safeguarding the welfare of the children and young people in its care. The Band aims to ensure that all children and young people are welcomed into a safe and caring environment, with a positive attitude to inclusion, learning and support.
Maltby Miners' Welfare Band recognises that it is the responsibility of each one of its staff/ volunteers to prevent the physical, emotional, sexual abuse or neglect of young people and children and will report any incident or behaviour that causes concern with regard to the welfare of the child or young person.